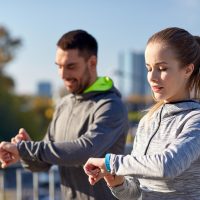 No surprise, FitBits and other fitness trackers have adverse side effects!
If you bought into the fitness tracker trend heads up- there are now dangerous side effects related to those trendy fitness trackers!
FitBits are the big, popular one in particular.
Recently there have been multiple reports of FitBits shocking users.
One man said he was putting his 3-year-old daughter to bed when his Fitbit Charge 2 shocked him. The jolt was so strong it caused him to drop his baby but luckily she wasn't injured.
Can you imagine?
Another woman says TWO different Fitbit models have shocked her.
Fitbit has released a statement and says it takes "all reports of potential issues seriously" and its products are "designed to prevent electrical contact with the user."
See, this is why I don't work out!