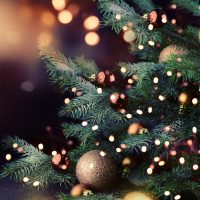 We already know that 2020 is wack!
That's no secret, the cool thing about this year though, is that were all being pushed out of our comfort zones..out of the norm….and were adapting!
A lot of businesses have gotten unique in the things they offer like curbside service and even delivery…I for one hope alcohol pickup and delivery stays a thing! This is a cool idea too….
Walmart just launched another type of delivery service for the holidays. Right now, if you don't wanna leave your house, you can get your Christmas tree delivered!!
They have all sorts of options from three foot potted plants to nine foot tall real trees! They'll also bring poinsettia's and wreaths so you can get all your decor straight to your door!
Wait though..it gets even cooler… Walmart has also teamed up with this site called "Handy" to offer a Christmas lights installation program!!!
They'll come hang your lights for you so you don't have to!
Single-story homes cost $129 and for a double-story it's $199. They'll come back and remove them after the holidays for a fee too!!
How has this never been a thing before?
I don't remember ever decorating the outside of my house growing up, but I always loved the look so that's probably why I go so crazy now with my decorations!
To buy this just check out the Walmart site..or ask them in store, I believe you can buy the vouchers there too!
~ Amber Nix