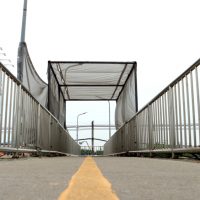 The City of Springfield needs your input on the new Jefferson Footbridge.
You've heard me talking about the Jefferson Footbridge up on C-Street…I'm fascinated by it!
Unfortunately, it's currently closed and has been for the last two years after Public Works workers found corrosion and steel loss on the bridge, but the City of Springfield is asking for your thoughts on the Jefferson Footbridge rehabilitation project.
The city will hold a sort of open house on Thursday, March 29 from 4 to 6 p.m. at White River Brewing.
They're asking for public input before the final design is completed.
New features include accessibility ADA features, new lighting, and more.
Did you know the Jefferson Footbridge is 116 years old?! That's SpringMO history!
I have high hopes for the Jefferson Footbridge and can't wait to check it out.
-Lauren