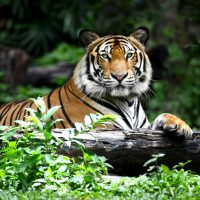 Nothing says "relaxing" like meditation near a vicious cat!
Amber and I have done goat yoga before. I've been wanting to try bunny meditation…but I'm not so sure about this.
The Big Cat Habitat & Gulf Coast Sanctuary has a yoga program in the same enclosures that house some of their 50 tigers.
"Yoga with Tigers" is intended is to provide people with exercise of body and mind through yoga combined with an up-close experience with lions, tigers and other big cats.
So you're pretty much right there with them!
It's only 40 bucks for tiger yoga, I'd totally pay that.
I'd rather do that than swim with dolphins.
The next session is coming up later this month.
-Lauren