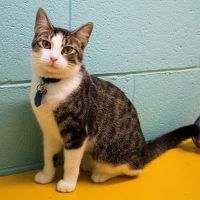 Welcome to TK's Kitty Corner where each week we feature a cat (or cats) up for adoption from C.A.R.E.
This week we have Mason. He is 2 years old, super sweet and loving. He gets along great with other kitties and children..
If you are interested in adopting them you can contact C.A.R.E. at 417-875-6565, stop in at 1328 W. Sunshine in Springfield, or visit them online at www.carerescue.org
You will need to fill out a quick application and pay a $100 adoption fee (this covers spay/neuter, vaccinations, deworming, feline leukemia/FIV testing, and anything else needed to get them healthy after rescue.)
C.A.R.E. is a NO-KILL SHELTER!!!