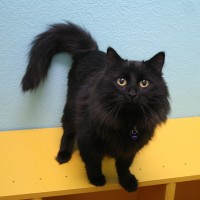 Welcome to TK's Kitty Corner where each week we feature a cat (or cats) up for adoption from C.A.R.E.
This week we have Alice who is a 3 year old fluffy black cat. She is very cuddly and smart. She gets along great with other cats as well as kids.
If you are interested in adopting her you can contact C.A.R.E. at 417-875-6565, stop in at 1328 W. Sunshine in Springfield, or visit them online at  www.carerescue.org
You will need to fill out a quick application and pay a $100 adoption fee (this covers spay/neuter, vaccinations, deworming, feline leukemia/FIV testing, and anything else needed to get them healthy after rescue.)
Every Friday through 2016 at C.A.R.E. is "Freeline Friday" where you can adopt a spayed/neutered kitty and they will waive the adoption fee.
C.A.R.E. is a NO-KILL SHELTER!!!