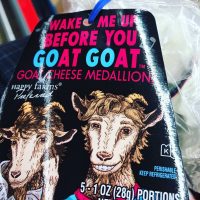 I will tell you the way to my heart- it's by cheese.
I'm not very familiar with Aldi -the whole shopping cart for a quarter thing gives me anxiety- but I do love cheese.
Aldi announced a very special line of cheeses that are currently in stores and they're all 80's themed.
Cheeses included "Total Eclipse of the Havarti", "Sweet Cheddar of Mine", "Pour Some Gouda on Me", and more!
I know, those names are super cheesy, right?
I went to my local Aldi to find the cheese and didn't come up empty handed!
"Wake Me Up Before You Goat, Goat" was available, but I ended up purchasing the Havarti.
I have yet to crack it open, but overall my first experience at Aldi was a success!
-Lauren