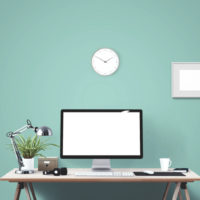 Where did all the desks go?
Disinfectant wipes, toilet paper, yeast, coins, Dr. Pepper and now….we have a desk shortage!
Both desks and office chairs are in high demand right now with back to school happening across the country, and as people continue to work from home.
Analytics show that between July 11th and August 15th, searches for "desk" rose 600 percent to the number two spot, only behind "face mask" at number one.
The term "kids desk" rose nearly 4,000 percent!
So if you'd had any issue finding any desks online, you are not alone.
Ikea even says they're experiencing some supply delays due to the pandemic, and they advise customers to check online before they visit stores.
Experts say you should consider making other pieces of furniture into a desk, or maybe borrow one from a friend- or check places like Facebook Marketplace, resale stores…you know, upcycle! Maybe any of those apps like LetGo.