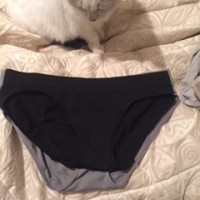 By: Dawn McClain
Dear Walmart underwear buyer,
Why are underwear in the same package at Walmart labeled the same size so incredibly different in size? I was feeling really fat the other day when I put on a new pair of underwear and they suddenly didn't fit. How did I balloon up so much in one day? The leg holes barely fit my thighs. I felt squeezed into them. I'm not really into feeling crack breeze either.
I got curious and compared the size of the other underwear in the same package. The labels say the same, M-6. So it wasn't the case that someone sneaked a SMALL into the package just to be a jokster.
3 of the 6 are undersized. They are dramatically different. If half are smaller, I'm sure it isn't just my package.
Listen, I know this is a first world problem, but honestly…come on China. Get it together!