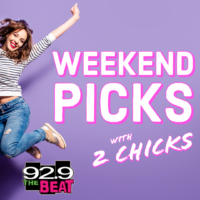 Happy fall y'all! Here's what's going on this weekend in the Ozarks!
What to Watch
Movie Theaters: Bad news, movie theaters aren't doing too hot right now. Both Regal Cinemas' Hollywood Theater downtown and the Alamo Drafthouse have shut down again until further notice due to the pandemic. Hollywood isn't taking a chance on new releases right now and the theaters are feeling the effects of that. AMC's Springfield 11 is still open and the Ozark/Nixa 12 is currently open as well.
Streaming: Spooky szn is in full swing! Adam Sandler's latest Netflix film Hubie Halloween is out now -a local schmuck in Salem, MA gets caught up in a real murder! K-Pop band Blackpink has a new documentary out that's available on Netflix too. Old favorites like The Wedding Planner and Girl, Interrupted are on Hulu if you don't want to be scared! And don't forget about the 31 Night of Halloween on Freeform! It's Monsters Inc on Friday, Halloweentown on Saturday, and The Addams Family on Sunday.
Things to Do
Isabel's House: If you want to keep the Halloween theme going and have a reason to get out of the house, go support our friends at Isabel's House for their drive-in to Drive Out Child Abuse & Neglect. Instead of their annual kickball fundraiser they're hosting a drive-in movie showing of Hocus Pocus at Springfield Underground. Socially-distanced, concessions available, and for a great cause! You need a reservation prior to showing up, details at IsabelsHouse.org.
Zombies: Zombies have taken over Craft Axe in downtown Springfield and they need your help to keep the undead hordes at bay. On October 18th at 7:00 pm, their targets will transform into a re-animated legion of undead! $30 entry fee includes: 2 hours of Axe throwing, Door Prizes, Costumes welcome.
Jazzercise: Springfield East Jazzercise is hosting their first outdoor class at Dan Kinney Park Pavilion in Springfield! They will be celebrating Breast Cancer Awareness Month with this special PINK OUT class!! So wear your pink and get ready to Jazzercise during this 45 minute Dance Mixx class. Just bring your waters and shoes, no weights or mats needed! This is a FREE class and all are welcome to join! Donations for Making Strides Against Breast Cancer will be accepted! Starts at 1:00 p.m. on Sunday.