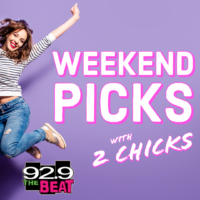 The City of Springfield and Greene County have implemented Phase 2. Here's the latest:

Closings: School is OUT!
Memorial Day services at the Springfield Veteran's Cemetery are cancelled.
Local movie theaters are still closed too.
And Planet Fitness too! However, most places are now open at 25% capacity…..
Openings:
Missouri State campgrounds are now open and they have a self check-in feature. They are now accepting reservations for arrival dates which start May 26 and after.
Springfield pools open Saturday at 25% capacity. It's gonna be wet enough this weekend!
Restaurants, bars, and live venues are permitted to now operate with 25% capacity.
Streaming: a quiet week for movies
Netflix: Ben Platt Live From Radio City Music Hall and comedian Patton Oswalt's new special I Love Everything is out now.
New Movies: Scoob is now available for streaming.  It was supposed to come out in theaters, but like many other films it had to switch to streaming. Cast includes the voices of Zac Efron, Gina Rodriguez, Will Forte, and Mark Wahlberg! Available for purchase On Demand.
Things to Do:
Taylor Swift Virtual Concert: From the Reputation World Tour! Hear the songs just as they were played live in concert. It's like you're there! 7:00p on Saturday on 92.9 The Beat- streaming and online too!
Drive in Movies: Carthage is showing a double feature of The Goonies and The Karate Kid. Gates open at 7:30p, show starts at 8:55 rain or shine. You have to physically walk up to the booth to purchase your ticket and other social distancing measures are in place. Looks like they might be bringing concert films to the drive-in too. Aurora is showing one movie per night: Twister, The Breakfast Club, and Call of the Wild. All films are PG or PG-13. Gates open at 7p, showtime at 8:45p. $8 per person in Aurora. They're looking to have comedy shows at the drive-in…stay posted!