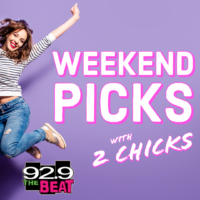 It's going to be a gorgeous weekend in the Ozarks! Here's what's going on this weekend:
Closings:
Movie theaters are still closed. AMC said they hope to have most theaters open by mid-July. Same for Alamo Drafthouse, they're aiming for july.
Springfield pools are still closed, but the pools at the Doling and Chesterfield family centers are now open. Details to follow, stay tuned! Splash Pads at Farmers Park are open.
Openings:
Missouri is open for business! Governor Mike Parson announced plans to implement Phase 2 of the Show Me Strong Missouri beginning June 16th. Local city and county officials will still be able to enforce their own restrictions. Springfield and Greene County are supposed to make an announcement on Phase 3 today. We're getting there! But in the meantime playground equipment, restaurants, and retail stores are open for business.
Streaming:
Netflix: New month means new things on Netflix. E.T- The Extra Terrestrial, West Side Story, 13 Reasons Why season 4 is available.
Hulu: Dirty Dancing and Dirty Dancing: Havana Nights are available to stream.
Amazon: The Chucky remake, Child's Play comes out today as well as the hit film Knives Out!
Disney+: The Artemis Fowl with Josh Gad is out today. Famous book series. The kids will love it!
Things to Do:
Virtual Concert: Saturday night's virtual concert on The Beat is Halsey from her Manic world tour. It's almost like you were there…almost! Show starts at 7 p.m.
Drive-In: Aurora is showing a double feature of The Goonies and The Great Outdoors on Friday and Sunday…NOT Saturday! Saturday night is drive in comedy night, a PG-13 event. Carthage is showing Batman, the 1989 version, and Beetlejuice.
Virtual Story Time: Each week your favorite Youth Services staff member at the Christian County Library will read both new and classic children's books so make sure to follow along at home. Storytimes will premiere every Friday at 10 a.m. on Facebook and will be available to watch YouTube for the following 24 hours.