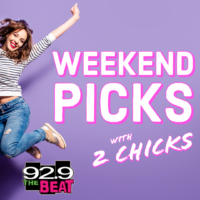 Pools are finally open!
Closings
Movie Theaters: AMC Theatres plan to re-open most locations by July 30. Regal Cinemas says their theaters will be open on July 31. Still no official word from Alamo Drafthouse.
Openings
Pools: The majority of the outdoor pools in Springfield are closed this season. Your options to cool off are the outdoor pool at Fassnight Park and Pool and McGee-McGregor Wading Pool at Phelps Grove Park. Both are now open with limited capacity.
Streaming
Netflix: David Foster: Off the Record- a documentary about Gigi and Bella's music producer dad. We've heard really good things about it! Plus, The Notebook is now available for streaming so yeah, grab the tissues.
Hulu: Palm Springs new original movie to Hulu starring Andy Samberg. Like a Groundhog Day situation. Looks really funny!
Disney+: The Big Green, the 90s movie about the rag tag soccer team. Remember with the "You're killing me, Smalls!" kid from The Sandlot. This movie will send you back!
Things to Do
Drive In: Aurora: It's Patrick Swayze night! A double feature of Dirty Dancing and Roadhouse (set in Jasper MO!!!). The drive in did say that even though they've had a lot of interest in their showings, they have a hard time even getting to half capacity. So if you think they drive in will be too crowded, you're wrong! Gates open at 7p. In Carthage it's a double feature of Jurassic Park and Jaws. Some great options this weekend!
The Ski Shack: Open Ride Night at the wakeboarding cable park off S. Campbell from 4-8p tonight. They do ask that you call ahead and make your reservation, but it's only $30 for the session and includes all your rentals like lifejackets and wakeboards. Great for beginner or pros, you can even BYOB and watch on the beach if you want! They've also got other things like paddleboards. Fun for the whole family!
Fireworks:  Fireworks are officially returning to downtown Springfield! The Springfield Cardinals are excited to partner with Great Southern Bank for the Great Southern Bank Free Community Fireworks Series! This will be spread out through July, August and September. The first show will begin this Saturday, July 18 at 9:30 p.m. Although the ballpark will not be open, fans can enjoy the full Music and Fireworks Experience by tuning their car radios or smartphone apps to 92.9 The Beat! Dates will be announced one at a time, so stay tuned for more details.