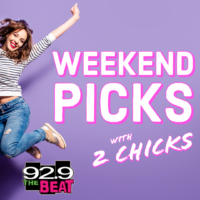 Uhhh…how is it August already?!
Closings
Movie Theaters: Major motion picture houses have pushed back their re-opening dates. AMC Theatres plan to open mid-August. Regal Cinemas like the Hollywood Theater downtown will open August 21. If you're wondering what this could look like, Regal says they'll require masks in the lobby, hallways, and restrooms, but not when you're snacking in the theater itself. Still no word from Alamo yet. Theaters have just signed a deal with production studios so look for more new releases coming straight to On-Demand.
Openings
Park Board: The pool at Fassnight Park is open through early September, the wading pool at Phelps Grove Park is free and open through August 16th so get in while you can! Both open in accordance with social distancing protocol- which means limited capacity!
Also, the Jordan Valley ice park is open too! Stay cool at the ice rink this summer. Admission is $6 for adults, $5 for kids. For open skate times check ParkBoard.org.
Streaming
Netflix: New month means new things on Netflix! The entire OG Jurassic Park series, A Knight's Tale (RIP Heath Ledger), Ocean's Twelve and Thirteen….enjoy!
Hulu: Classic Rom-Com My Best Friend's Wedding is now streaming! Plus Top Gun, get ready for the sequel coming in 2021 now.
Amazon: I just wanted you to know that the Berenstain Bears season 1 is now streaming on Amazon Prime. You're welcome.
Things to Do
Drive In: Aurora– Double feature of the Karate Kid and Ghostbusters (the OG). Gates open at 7p. Cash Only! In Carthage– they've held over last week's show of Dirty Dancing and Grease. Gates open at 7:30p. A note, Carthage says with the pandemic there will be no new movie showings for the foreseeable future. Bummer!
Lolla2020: The annual music festival usually takes place this time of year at Grant Park in Chicago, but due to COVID they're going virtual this year! Featuring both virtual performances and footage from previous years, the festival goes live every day through Sunday at 5 o'clock on YouTube. Catch Shaed today at 6:10p, Chance the Rapper's full set will stream at 8:30p tonight….plus performances by Outkast, Lorde, Tyler the Creator and more throughout the weekend.
Haute Tot: Their annual tent sale is bigger and better this year. Clothing for women, men, children, maternity and more. This year there is no tent. It's at the old Spirit Halloween place around the corner. Everything under the tent is $1!