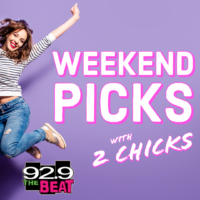 A look at what's going on in-and-around the Ozarks!
Closings:
Pools: Public pools in Springfield are finally closed for the summer season. Hopefully we'll have a better summer next year!
Openings:
Theaters: Movie theaters- All movie theaters are now open in Springfield (AMC, Hollywood Theater, Alamo Drafthouse, the Moxie). Masks are required, check with theaters on their new procedures before you go.
What to Watch:
In Theaters: Hollywood is still getting back to business- no new movies this weekend. The New Mutants, Bill & Ted Face the Music, and Tenet continue to rule the box office.
Streaming: If you didn't already know, Sister Sister is now streaming on Netflix! What a throwback with Tia and Tamera Mowry. Magic Mike and the entire Back to the Future series are now available as well. If you want to induldge in guilty pleasures stream the complete Twilight saga, it's now available on Hulu. Also, have you heard of Tubi? It's a new free streaming service. The name keeps popping up so it may be worth checking out!
Things to Do:
Stage: Our friends at the Springfield Little Theatre are hosting a socially distanced performance of Forbidden Broadway's Greatest Hits. You can join them at the theater or there's a streaming option at SpringfieldLittleTheatre.org. They'll also be doing small-group ghost tours of the Landers Theaters coming up in October. Make sure you reserve early!
Drive-In: It's a tribute to Chadwick Boseman this weekend at the drive-in. In Aurora they're showing both 42 and 21 Bridges, both films star Chadwick. In Carthage it's a double feature of Smokey and the Bandit and Field of Dreams. Rumor has it some of the cast will be there, and the car too, to take pictures with!
Fireworks: It's another Great Southern Bank free community fireworks night at Hammon's Field this Saturday. The ballpark is closed, but pack up the fam and head downtown to watch the free fireworks show. Show starts at 9:30 p.m. and 92.9 The Beat is your official fireworks soundtrack!