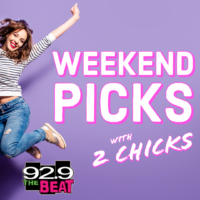 The weather will be perfect this weekend. Here's how to make the most of it:
What to Watch:
In Theaters: Broken Hearts Gallery– a new movie produced by Selena Gomez. Looks like a great Rom-Com! The Nest– Jude Law plays an ambitious entrepreneur who persuades his American wife and their children to leave the comforts of suburban America and return to his native England during the 1980s. The New Mutants, Unhinged, and Bill & Ted still currently rule the box office.
Streaming: Some highlights from Netflix: Grease, the entire Back to the Future series, and How to Train Your Dragon 2. Archer season 11 is on Hulu this weekend, and The Invisible Man comes to HBOmax on Saturday.
Things to Do:
Pineapple Whip: This is how you know summer is really ending, Pineapple Whip locations are starting to close! This is the final weekend for the Battlefield location. Campbell and Glenstone could be closed by September 26, weather permitting. Get your Whip fix- if not, you'll have to wait until the Whip Solstice!
Fireworks: It's another Great Southern Bank Free Community fireworks night with the Springfield Cardinals. The ballfield itself remains closed, but load the kids up in the car, grab some snacks, and head anywhere downtown to find a great viewing spot. Fireworks start at 9:30p and 92.9 The Beat is your official fireworks soundtrack! This is the last show of the season.
Drive-in: Carthage: Double feature of Mean Girls and Clueless. Gates open at 7p, show at 8p. Cash only! Aurora has concerts this weekend. Latitude 28 Band is on Friday and Saturday.
Creative Audio: Amber is broadcasting live at Creative Audio's tent sale on Saturday from noon to 2p. Deals on subs, amps, and more!
drive-in