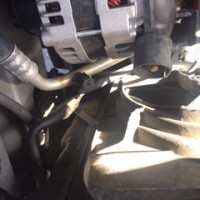 By: Dawn McClain
When I bought my car for 1,900 off of Craig's List, I understood that I was in for some mechanical issues to come. I've replaced the windshield, battery and alternator. I got an oil/fluids change. Now the power steering doesn't sound any better, and I think I've determined that I have a power steering fluid leak.
I thought it might be the serpentine or drive belt, so I googled where to find it on my van. The belts look fine, but it sounds like I am running a weed eater loudly when I drive. Also, my wheels make a grinding horrible noise  when I turn the wheel.  Also, when I start it up there is a weird clunky noise. I looked under the hood and I can see a glossy green liquid covering one of the pipes below.
I love Youtube! It helps you figure out things on your own. Next stop, my mechanic so I can tell him what I "THINK" It is. That is probably so annoying, like when you go to the doctor and you've already diagnosed yourself. Wish me luck! Hopefully I won't have to start riding my bike again!