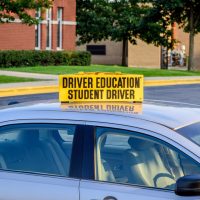 I was very disappointed to hear Mercy is ending its Driver's Education training!
As if driving in Springfield isn't hazardous enough, the roads might get a little more risky as Mercy is ending its drivers training course.
See, back in Michigan where I'm from teen drivers are required by law to take a drivers ed class. It's just good form, ok?
Mercy says they'll finish out current classes, but are taking no new students stating of course, what else but costs as reasoning for ending the program.
By not teaching these drivers, this is just creating a cycle of bad drivers. You've got bad drivers teaching new driver their bad driving habits!
Springfield Public Schools does offer an online drivers ed course but it doesn't include behind the wheel instruction.
And that's not gonna cut it.
Drive safe, SpringMO!