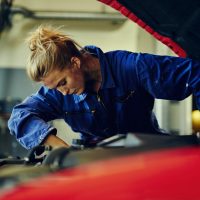 Girl power!
Check this out- according to new stats women are leading the surge in the labor force and are increasingly choosing blue-collar industries.
Male-dominated fields like trucking, policing and construction have all seen the proportion of female workers grow by as much as half as higher pay lures women from traditional jobs like nursing assistant, hairdressers and cleaners.
These ladies are making bank!
However, they're still male dominated fields and with on-the job-training playing a bigger role in most blue-collar workplaces, I hate to say it, but there's a lot of intimidation, harassment and discrimination. Plus, these industries tend to be vulnerable to recession.
I mean, working in a male dominated field, we definitely know what that's like! I know Amber and I have each had our own run-ins in our careers so for these ladies to be going into some of the toughest fields with the toughest men all I have to say is…you go girl!
-Lauren