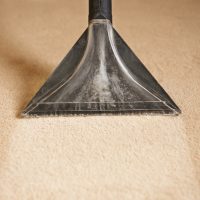 Do you take your shoes off when you enter the house? This is totally gonna gross you out…
If you think your bathroom is the dirtiest room in your home, think again.
Carpet specialists have found that carpets in the bedroom have more than double the bacteria found in a living room and ten times as much as the toilet seat in your bathroom!!
I guess bedrooms are just kinda forgotten about because you're more concerned with the rooms people see? Is maybe the logic there.
I clean my room, but I don't always deep clean it.
Experts recommend vacuuming at least twice a week and having carpets professionally cleaned at least once a year to avoid growing high levels of bacteria, mold, and yeast.
Ugh sorry to be the bearer of bad news, but I figured if I had to know, so should you!
I have hard surfaces in my house so I'll usually wear my shoes in the kitchen but I try to not walk into my room with them on for this reason! My room is my safe space!!
Is it too early to start spring cleaning yet?!
-Lauren