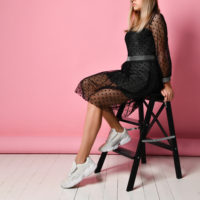 Is your style the perfect blend of sporty and feminine? You might love dressing up, but prefer comfy, athletic kicks that keep your look balanced and approachable. We don't blame you. After all, studies show that high heels are the biggest culprit behind female foot pain! Ready to put a new spin on your signature look? Today, we're sharing our top tips on how to wear sneakers with a dress.
If you're ready to turn everyone's head and stand out from the crowd, check out our guide below.
Why This Look Works
Does the idea of pairing dresses and sneakers make you raise your eyebrows? If so, you might be surprised to find that this look is more fashion-forward than you'd expect. In fact, sneakers are popping up on runways around the world, paired just as easily with long, flowing dresses as the latest in athleisurewear. From sporty, high-end designer ones to simple, classic options, there are so many options!
However, it's one thing to see the latest supermodels rocking this look. How can you translate it to your everyday ensembles? Here are a few tips to keep in mind.
How to Wear Sneakers With a Dress: Tips to Look Your Best
First, let us remind you that there isn't one perfect way to embrace this style.
When you let your personal aesthetic rule, you're bound to create an outfit you adore. Still, there are a few general guidelines that can help you feel (and look) your best.
1. Pair Patterns With Solid Colors
The key to wearing sneakers with a dress? You have to be willing to step outside the box just a little.
If your dress is solid-colored, you can have fun with your casual footwear. This is a great place to inject a little color, pattern, and personality into your outfit!
2. Keep It Simple With Patterned Dresses
While wild-patterend sneakers look great with simple dresses, the same doesn't apply to more elaborate one-pieces.
If your dress features a pattern, it's best to stick with a simple, monochromatic pair of sneakers to add appropriate balance. Otherwise, mixing two wild styles could overwhelm your look.
Planning to rock a floral midi-dress? What about a polka-dot floor-length one? In either case, choose a solid-colored pair of sneakers offers the perfect touch.
Of course, this doesn't mean the look has to be boring! There are plenty of ways to let your style show through.
3. Consider Your Accessories
Are you planning to carry a clutch as you wear your dress? Did you cinch your waist with a skinny belt or throw a colorful ribbon in your hair? You can accessorize a dress in a million different ways, using items such as:
Jewelry (chunky or delicate)
Hats
Scarves
Gloves
Handbags
Watches
As you're planning your outfit, consider matching your sneakers to your accessories. You can either match the colors or choose complementing ones that pair well together.
4. Let Length Be Your Guide
Even the most low-profile sneakers will be bulkier than a pair of delicate sandals or heels. That said, sneakers usually go best with lightweight sundresses that are casual enough for everyday wear.
To find the perfect pair, consider the overall length of your dress. If it's ankle-length or trailing the floor, a flat, low-cut pair will work best. On the other hand, a pair of high-top sneakers will look great with a mid-cut piece or a minidress!
With short dresses, you can go a little taller and eye-catching.
Originally Posted On: 5 Fashion Tips on How to Wear Sneakers With a Dress (kickscrew.com)