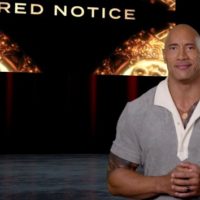 Netflix unfurled its "global fan event" TUDUM over the weekend, and as one would guess with a three-hour run-time, there was lots to talk about — including video peeks at new and returning series, and premiere date anouncements.
The event began with an action scene in which the streaming giant's celebs like Lilly Singh, Army of the Dead's Matthias Schweighöfer, Stranger Things stars Galen Matarazzo and Millie Bobby Brown, William Zabka and Ralph Macchio from Cobra Kai, and more were frantically hunting for their missing TUDUM — that is, the introductory sound you hear when you click on Netflix.
After a global search and lots of cellphone calls, the sound was restored, thanks to Lupin star Omar Sy, this time with the show's titular thief posing as an Internet repairman.
As noted, the special afforded fresh peeks at upcoming shows and movies on Netflix, starting with an exclusive action scene: a fight between Ryan Reynolds and Dwayne "The Rock" Johnson vs. Gal Gadot in their forthcoming movie Red Notice.
The special also gave Stranger Things fans new content to pore over. It was the same for watchers of The Witcher, as well as other returning hits like Bridgerton, Emily in Paris, Ozark, Money Heist, Tiger King 2 and others, and also revealed a teaser for the sequel to Chris Hemsworth's action hit, Extraction. Spoiler alert: As the trailer reveals, his character, Tyler Rake, survived the original's cliffhanger ending.
The TUDUM event also gave sneak peeks of anticipated new projects, including the live-action adaptations of Neil Gaiman's The Sandman and the anime classic Cowboy Bebop, the trailer to Schweighöfer's Army of the Dead prequel Army of Thieves, and others that will be rolling out this year and well into the next.
Copyright © 2021, ABC Audio. All rights reserved.