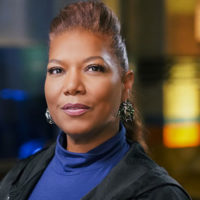 Queen Latifah has struggled with losing weight for much of her life, and now she's launching a new campaign to erase the negative stigma about obesity.
The hip hop and acting icon has partnered with pharmaceutical company Novo Nordisk for the "It's Bigger Than Me" campaign that aims to educate people about obesity as a clinical condition.
"It's in your DNA," Latifah tells People. "Maybe your hormones are doing something that you're not aware of and that's something for a professional to deal with."
The Equalizer star, born Dana Elaine Owens, remembers that she was always mocked about being big for her age. At age 18, she experienced what she calls "flashes of self-hate" that she quickly wanted to end.
"I said, 'Dana, you're either going to hate yourself, or you're going love yourself.' And I decided at that moment I'm going to love myself," Latifah says. "I don't want to ever be in a place where I don't love me."
When she launched her self-titled talk show in 1999, Latifah confesses that it was "really hard to keep my weight in check." The Grammy winner found herself judging how she appeared on camera.
"Looking at yourself on TV, which already adds 10 or 15 pounds, I'm like, 'Oh, man. Look at my chin, look at my hips,'" she notes.
Now she understands that your body size is not an automatic indication of whether you are healthy. "A lot of people, they'll be half my size, but they're actually malnourished," the Queen says. "I'm probably healthier than half those people just because I know where I stand. I know what I'm made of."
After decades of feeling judged because of her weight, Latifah says she's "in a good place," adding, "I've learned to manage my body."
Copyright © 2021, ABC Audio. All rights reserved.